Adding a neatly arranged bouquet of freshly cut flowers to your vase or kitchen table always brings a homier vibe to your house.
If you're a novice gardener who plans to grow your own cutting garden, this post will give you wide variety of ideas of what cut flowers you can add to your new garden.
Plant these flowers, and you'll soon have a garden filled with blooms of various colors, sizes, scents, and appearances!
1. Ageratum (Ageratum houstonianum)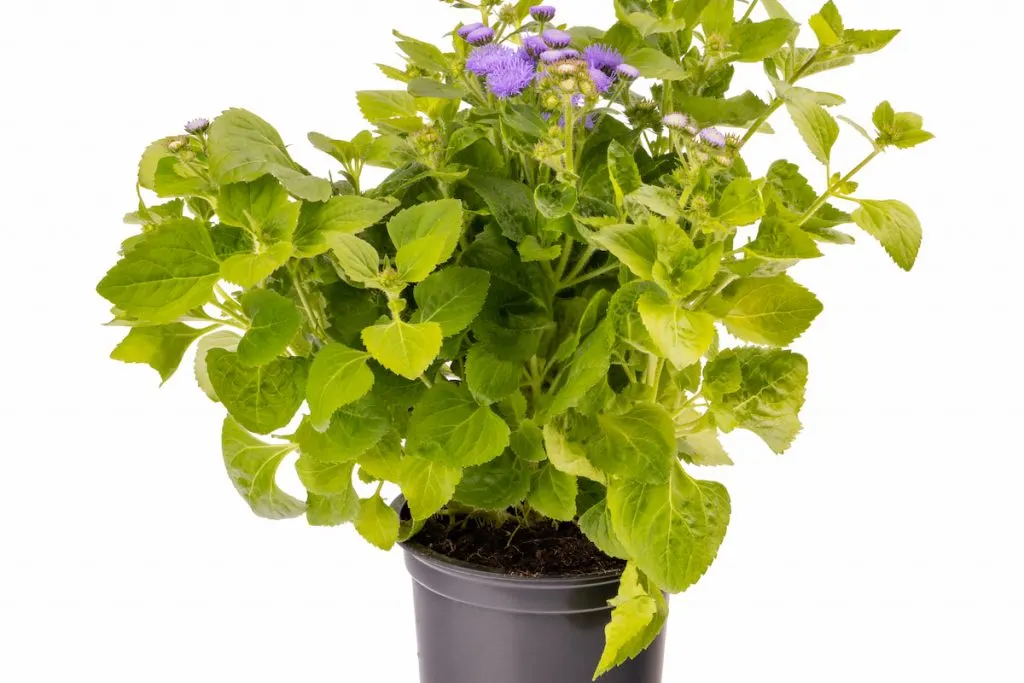 A native of Mexico, Ageratum is an easy-to-grow annual that offers small, fluffy blue flowers. Since caring for this plant is simple, it makes a great choice for novice gardeners who want to add blue color to their garden.
2. Allium (Allium sp.)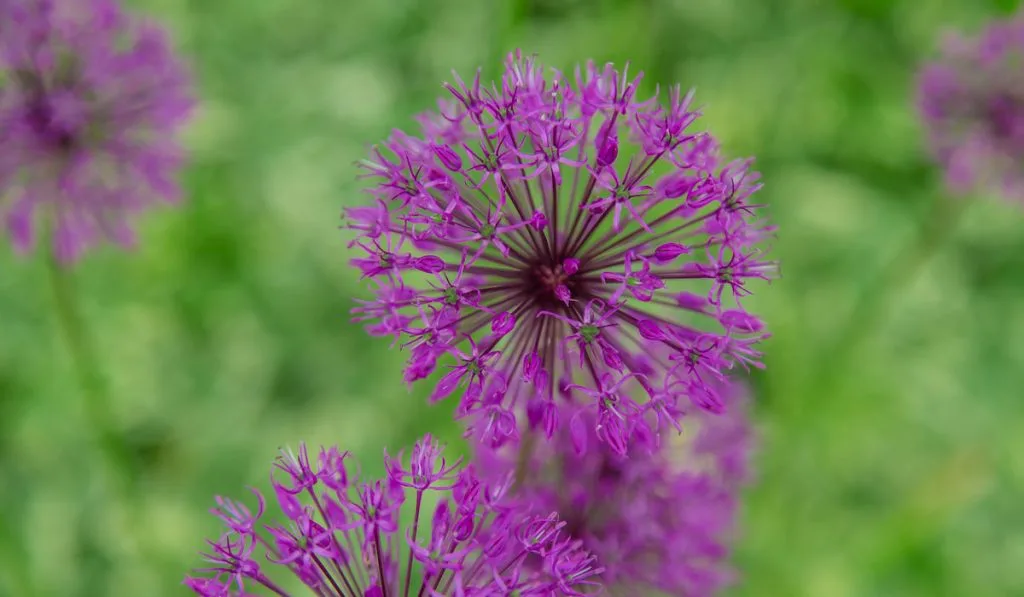 There are various vegetables that belong to allium family, including onions, garlic, and shallots. However, there are also plenty of allium varieties that are popular ornamentals.
Alliums come in wide variety of shades, heights, and flower forms. They are great choice for both fresh and dried bouquets. Moreover, as these flowers are bulbs they do not require large spaces and can be tucked into even crowded areas.
3. Anemone (Anemone sp.)
Also referred to as 'windflower', anemones make a great addition to a Victorian-style garden bed.
Elegant and alluring, anemones come in beautiful colors of white and pink. In addition, they are rabbit- and deer-resistant, and they also have long vase life.
Anemones thrive in coastal landscapes with light shade. However, they can also do well under full sun in cooler climates.
4. Armenian Basket Flower
The Armenian Basket Flower grows about 3 to 4 feet tall. It boasts brown buds that bloom to bright yellow flowers during midsummer. These flowers are heat and drought-resistant, and they are also able to withstand salty coastal grounds.
Like the anemone, the Armenian Basket Flower is rabbit- and deer-resistant. In addition, they also attract butterflies. This flower can be used for fresh and dried arrangements.
5. Asiatic Lilies (Lilium asiatica)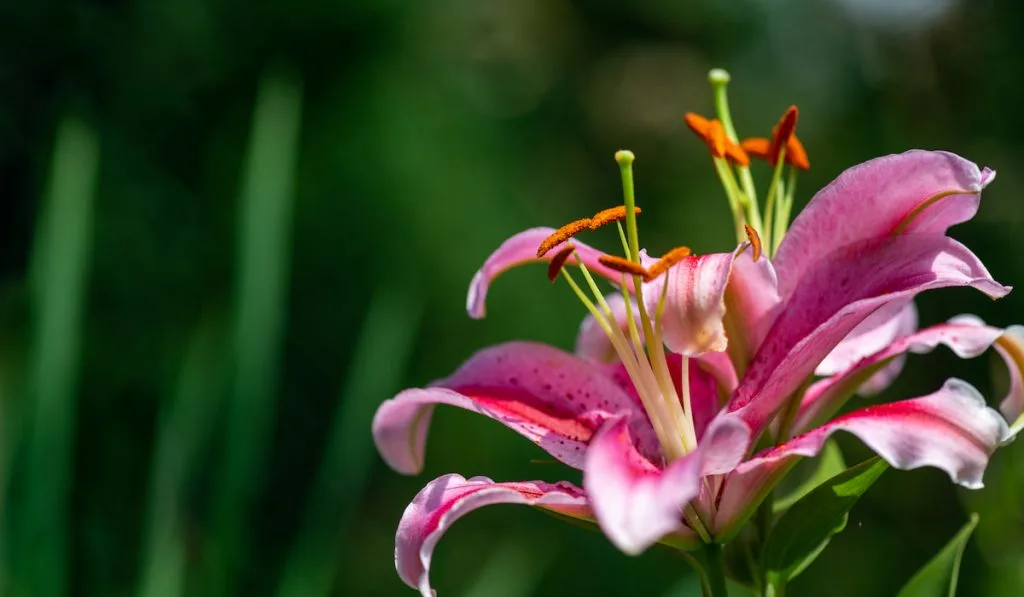 Adding Asiatic lilies will ensure a colorful early summer garden. These flowers are easy to care for, and they come in wide variety of heights and colors.
Asiatic lilies need at least six (6) hours of sun to grow well. They thrive in well-drained soil that is never soggy.
6. Aster (Asteraceae sp.)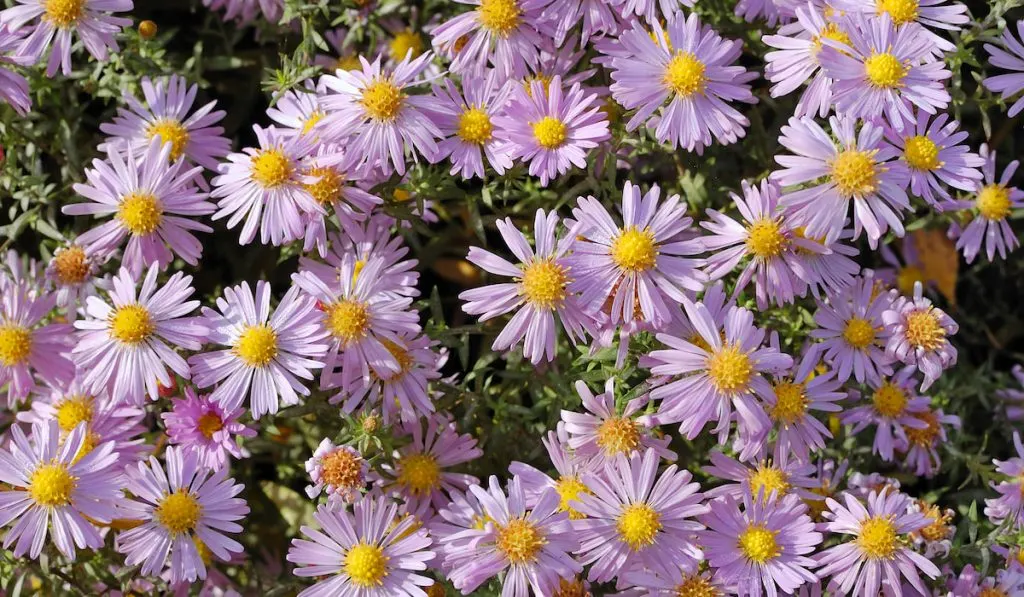 Asters are perennials with daisy-like flowers often seen as part of late summer and fall displays. Their flowers can be white, pink, red, blue, and purple, usually with yellow centers.
7. Bee Balm (Monarda sp.)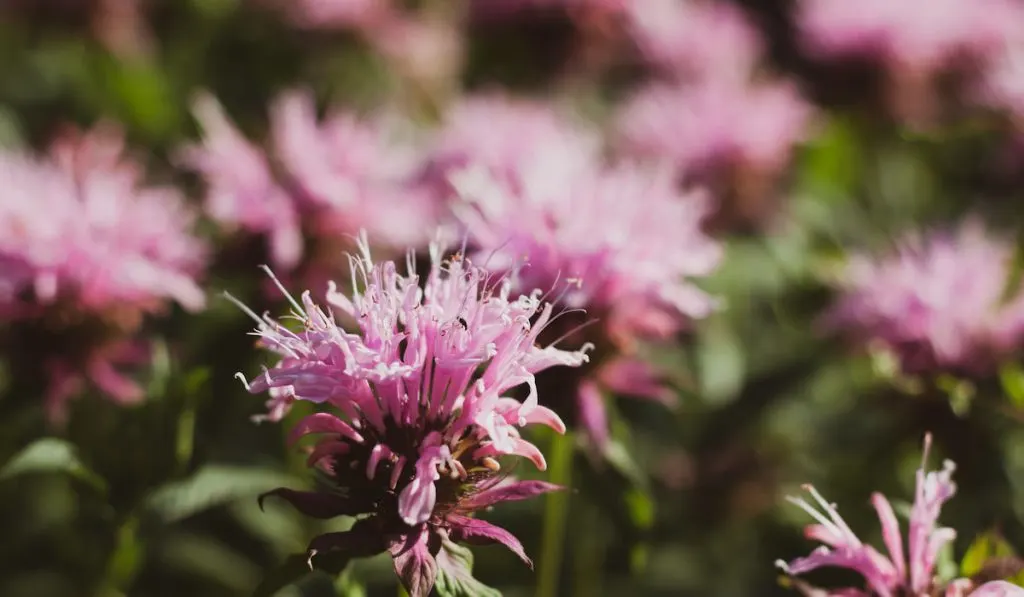 Belonging to the mint family, Bee Balm is appealing to various pollinators, including bees, butterflies, and hummingbirds. For a long time, this flower has been used by Native Americans for medicinal purposes.
Bee Balm grows around 2 to 3 feet tall. It comes with a unique flower shape and texture that may be red, salmon, crimson, scarlet, rose pink, and white.
All bee balm varieties offer beauty and fragrance, making them great cut flowers.
8. Bird of Paradise (Strelitzia reginae)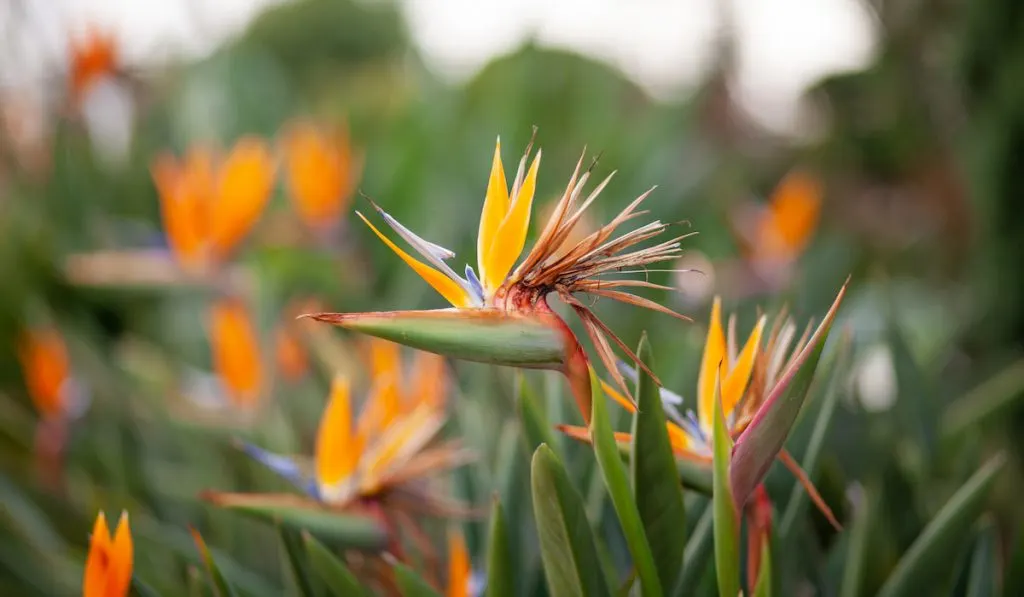 Bird of Paradise is frequently mistaken for the banana tree since their leaves look similar. These striking, unique, and tropical plants are known for their orange-colored, crane-like flower that looks like a bird about to fly.
Although it is uncommon, Bird of Paradise may bloom indoors under the right conditions.
9. Black-eyed Susan (Rudbeckia hirta)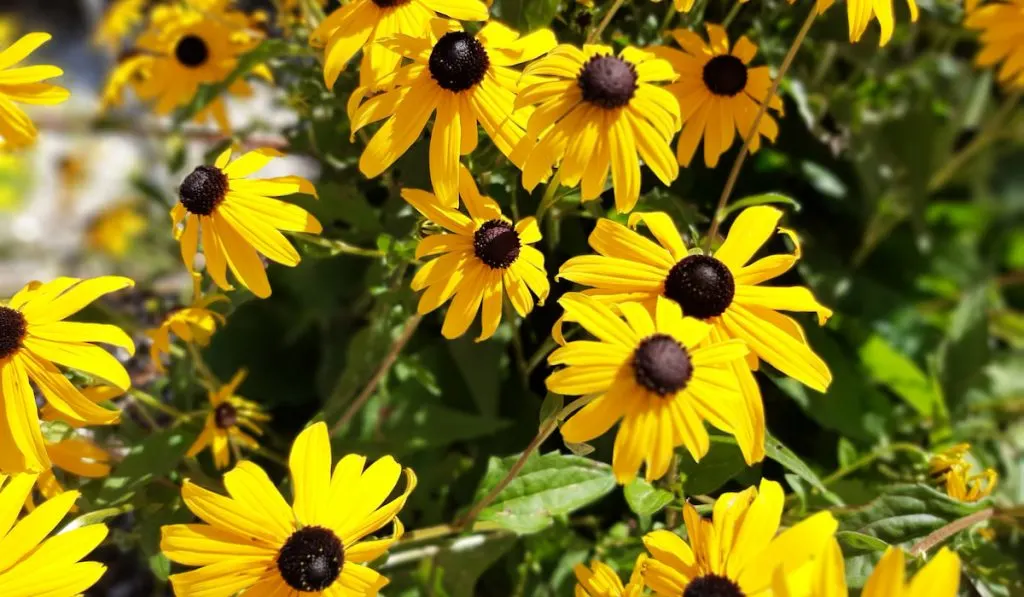 One of the most popular wildflowers, the Black-eyed Susan is most often found in North America's open fields from June to October.
The Black-eyed Susan comes with daisy-like flowers with dark, brown-purple centers, hence the 'black-eyed' term on its name. They provide golden yellow blooms that add attractive, vivid colors to flower arrangements.
10. Blanket flower (Gaillardia)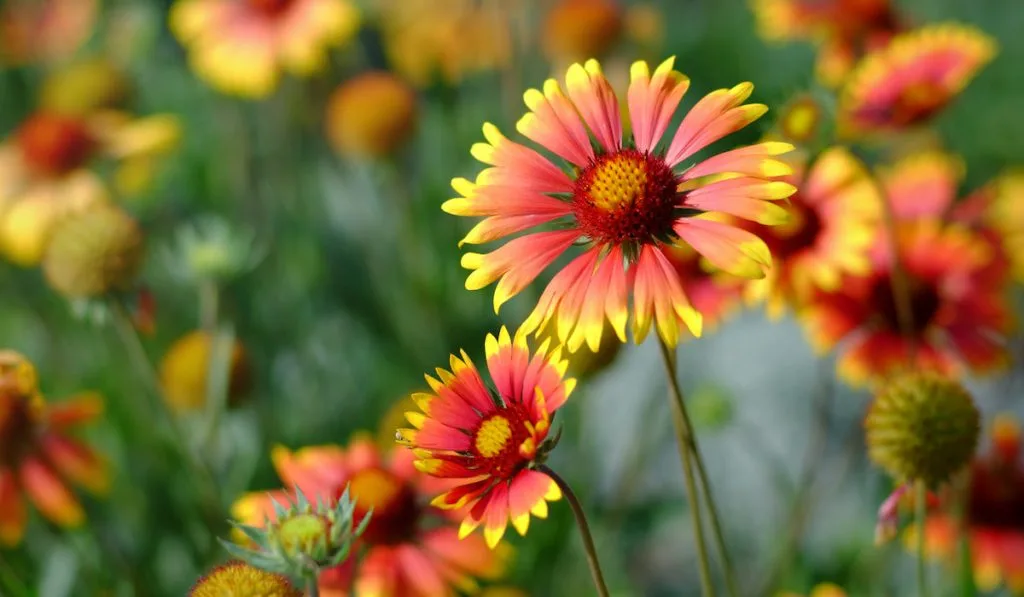 A member of the daisy family, the Blanket flower is an easy-to-grow plant that requires little care once established. Often seen wild on the prairies, these plants can also be added to a flower bed, or a garden.
If deadheaded, Blanket flowers will provide colorful and captivating long-lasting blooms.
11. Blazing Star (Liatris spicata)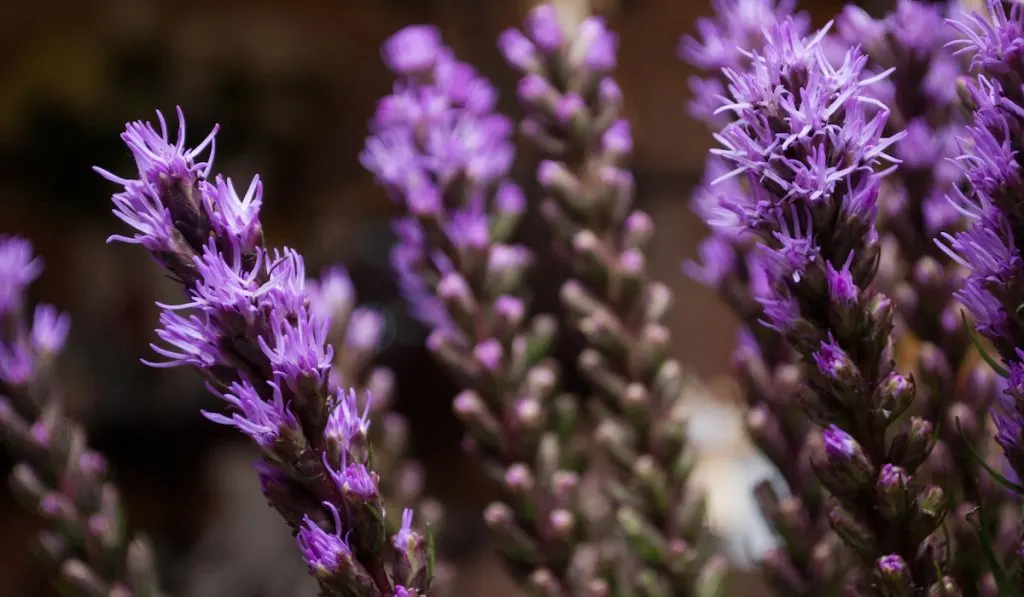 Also known as 'gayfeather' and 'prairie star', the Blazing Star is native to North America.
This flower has gorgeous, tall, purple, or white blooms and dainty grass-like leaves. The tall bloom spike makes it a sturdy and attractive cut flower.
Easy to grow and propagate, the Blazing Star is a good choice for both beginner and experienced gardeners.
12. Carnations (Dianthus caryophyllus)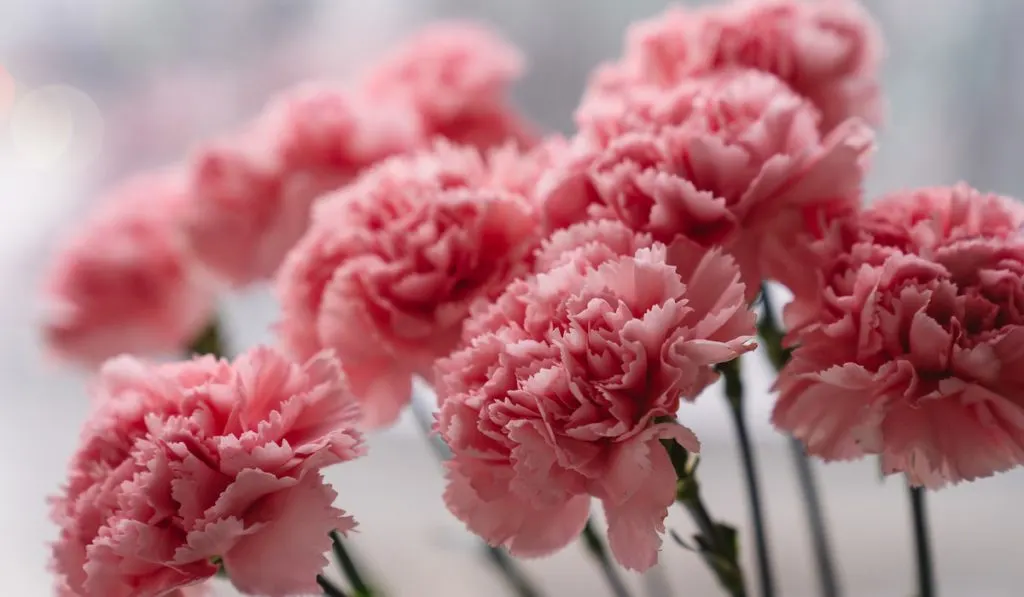 A symbol for affection and passion, the carnation is often used to express emotions for loved ones. Traditionally, it is given on Mother's Day to communicate gratitude and love.
Carnations are not only used to make a carnation bouquet, but they can also be brewed in teas and used as an additional ingredient in skin-moisturizing products.
13. Celosia (Celosia sp.)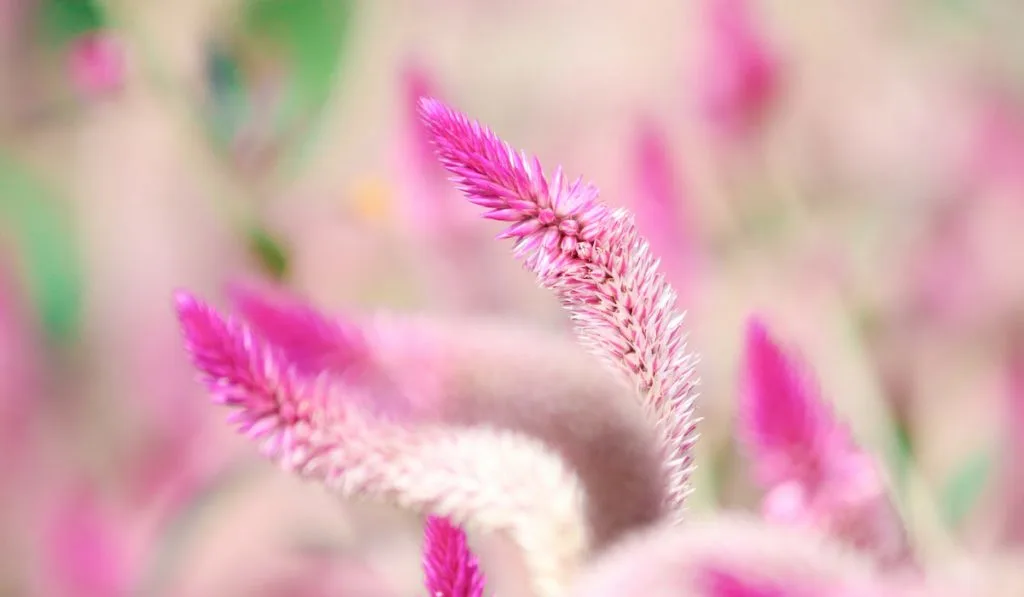 Also referred to as "wool flowers," Celosia is a colorful, edible, ornamental plant that belongs to the amaranth family. This plant contains nutrients that are mostly found in leafy greens.
Celosia plumes take several forms, from flame-shaped to resembling a cockscomb. In any of its forms, Celosia will be one of the brightest and easiest flowers in your cutting garden.
If you plan on using celosia for your bouquet and arrangement, then you lose the chance to taste them when they're luscious and tender since the edible parts will taste bitter after blooming.
14. Chinese Lantern (Physalis alkekengi)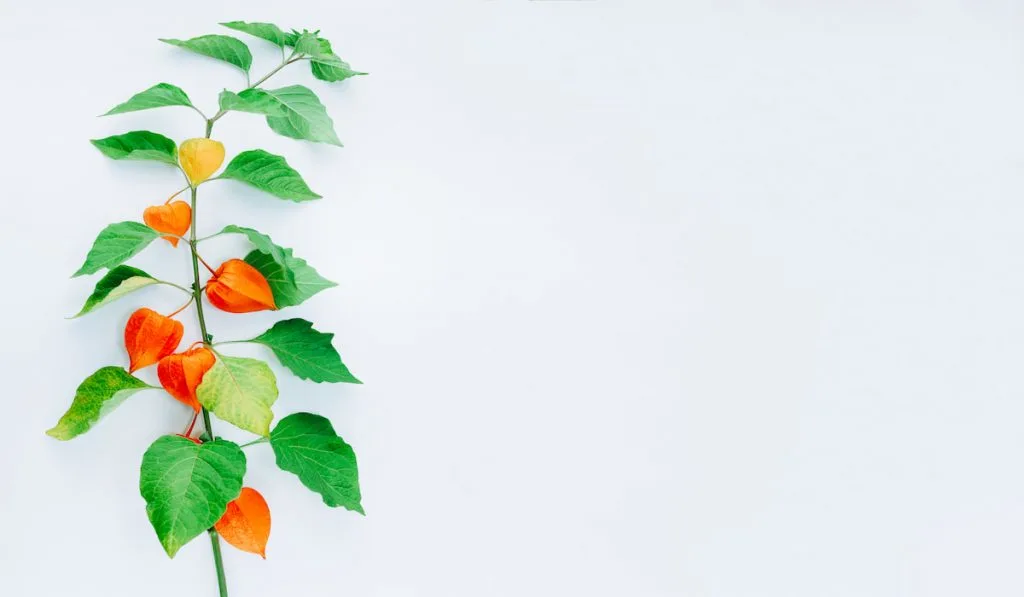 Chinese lantern has tiny, white bell-shaped flowers that emerge in summer. However, these flowers are popularly known for their green seed pods that mature into bright pumpkin-orange lanterns in early fall.
Depending on the ground where they are planted, Chinese lanterns can be invasive. To prevent them from overrunning a garden, it is suggested that they are planted in containers.
15. Chrysanthemum (Chrysanthemum sp.)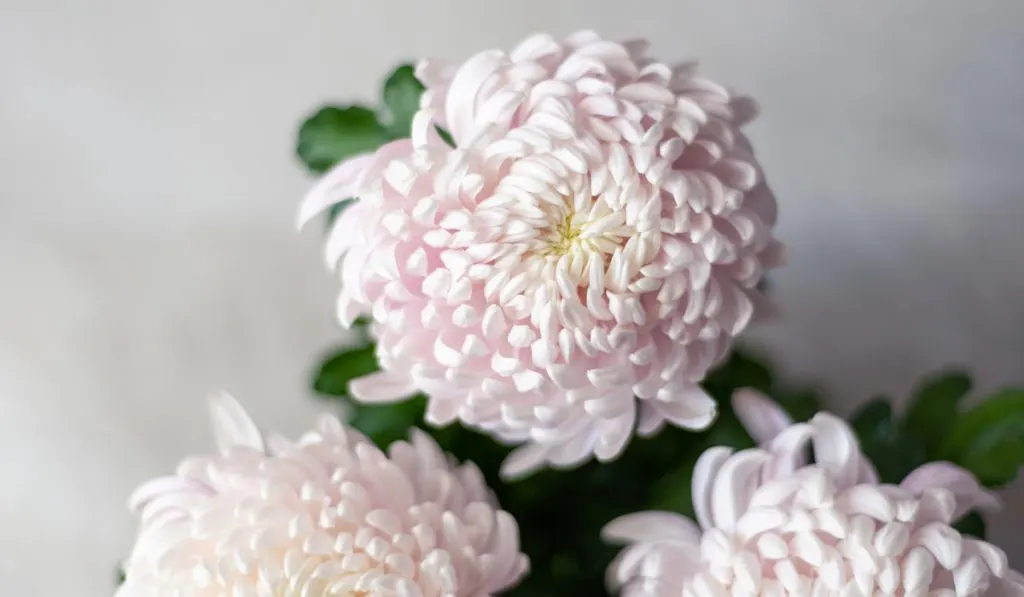 Also known as 'mums,' Chrysanthemums are the second most popular flower in the world. Their daisy-like flowers come in various shapes, colors, and sizes, and it is also a staple flower in fall.
Because of the vibrant colors these flowers display, they make a great addition for gardeners planning to make their beds more colorful.
16. Clustered Bellflower (Campanula glomerata)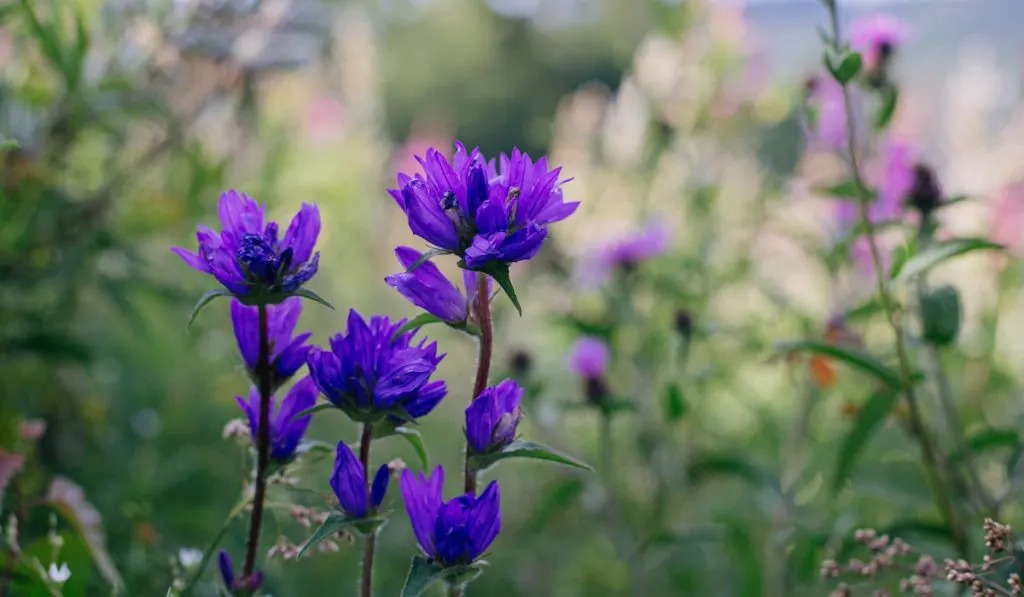 Clustered bellflower is a perennial that features violet-blue to white flowers. These flowers grow in dense clusters, with up to 15 flower petals per cluster.
This flower is easy to grow and is suited for beds, borders, containers, cottage gardens, and rock gardens. When used as a cut flower, clustered bellflowers can last up to 2 weeks in a vase.
17. Coneflowers (Echinacea)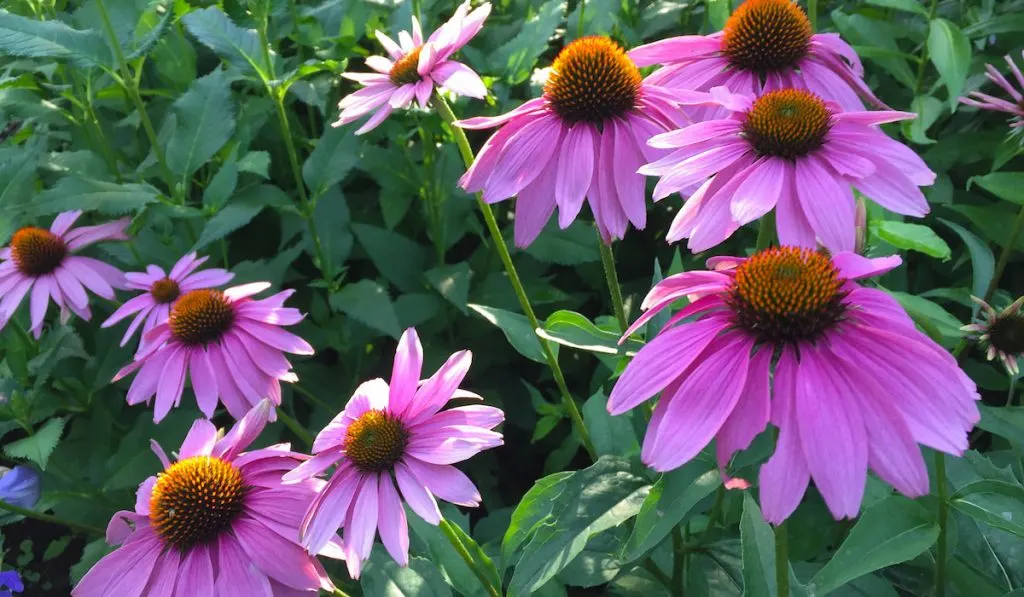 Coneflower comes in a variety of colors, including yellow, pink, purple, orange, white, and red. They attract pollinators, including bees, butterflies, and birds.
While there are many kinds of these flowers, most of them make a good choice for bouquets and arrangements.
Coneflowers bloom from midsummer through fall. An easy-to-grow plant, these flowers are drought-tolerant once established.
18. Coreopsis (Coreopsis sp.)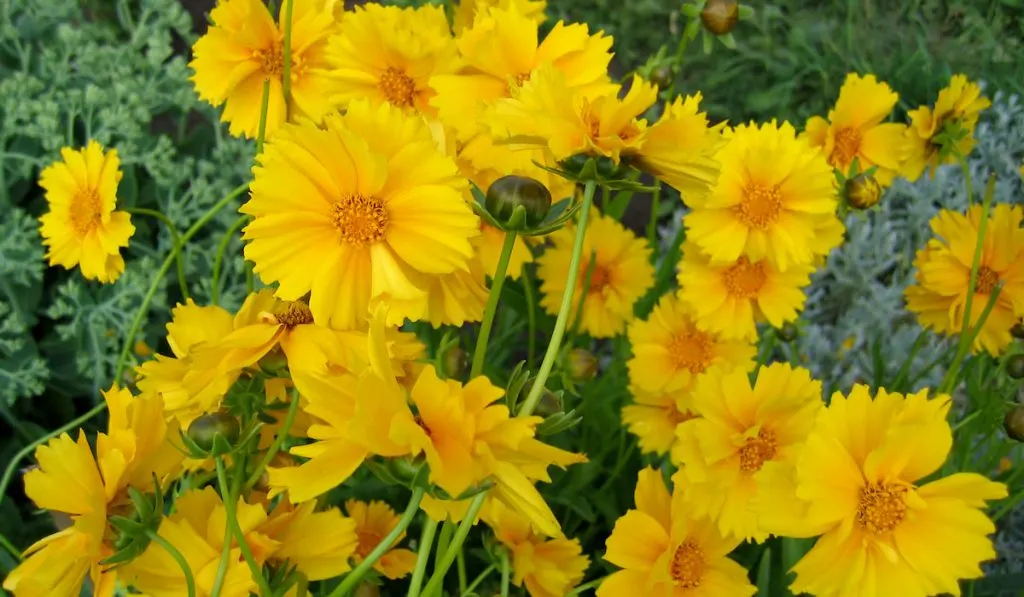 Coreopsis is a perennial that is drought-tolerant, low-maintenance, and has a longer bloom time compared to other perennials. Hardy in zones 4 to 9, coreopsis blooms abundantly and can be planted in container gardens.
A long-lasting cut flower with over 80 species, coreopsis makes a great addition to bouquets and flower arrangements.
19. Cosmos (Cosmos bipinnatus)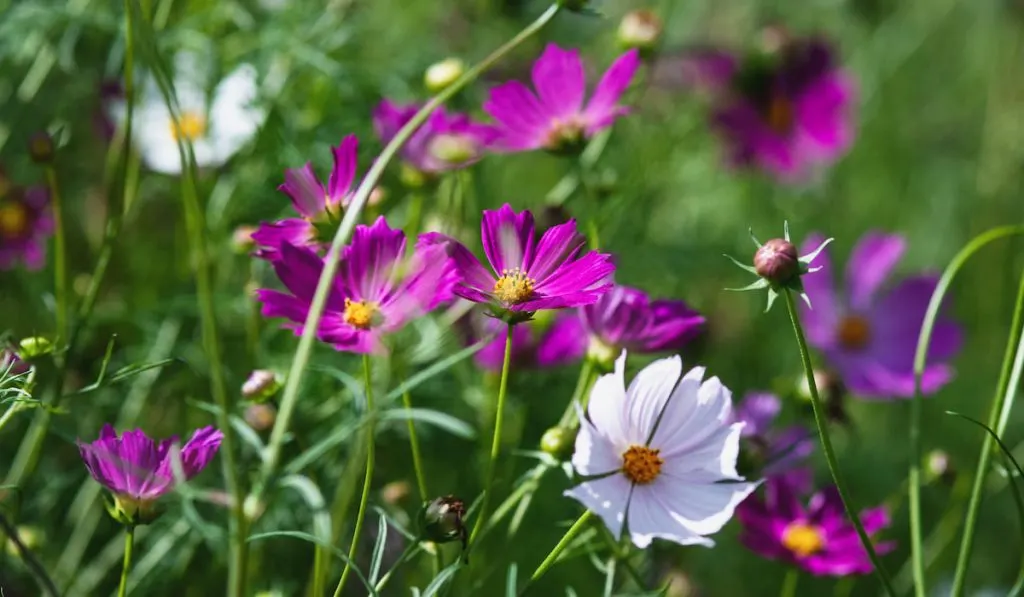 A treasured flower among home gardeners, cosmos is a plant that varies in size, color, and petal shape—some are tall, while others are short. This flower has a wide variety of colors, including white, cream, yellow, orange, pink, purple, lavender, red, and chocolate.
All cosmos varieties are beautiful and unique on their own and add elegance to your bouquet and flower arrangements.
20. Daffodil (Narcissus)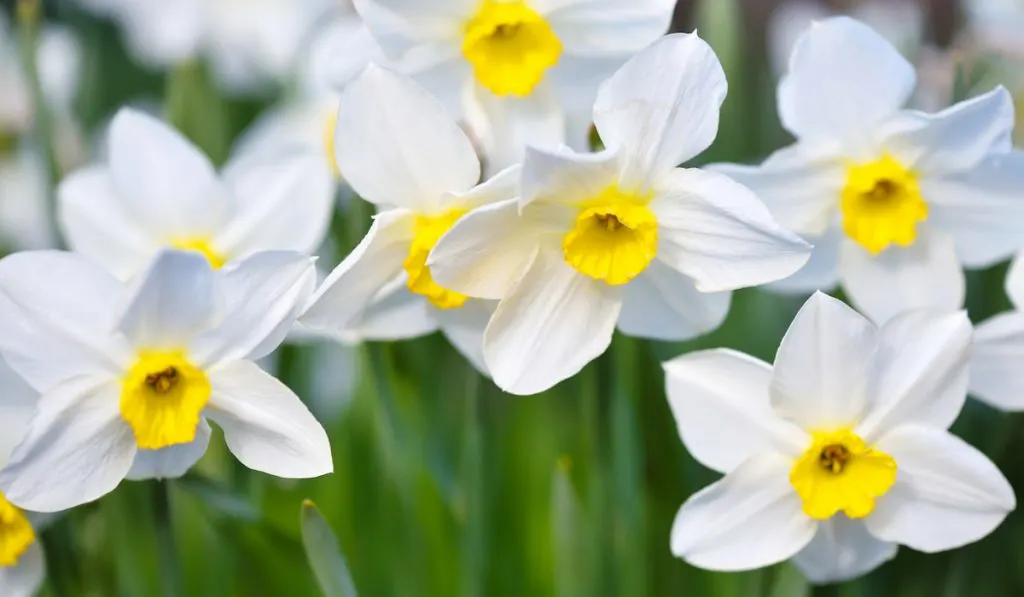 Some of the best-known bulbs in the gardening world, daffodils bloom during the spring. They have trumpet-like blooms that vary in color, with yellow being the most common, but they can also be pink, orange, or white.
Daffodils are rodent and deer resistant and can be planted in areas to naturalize over time.
21. Dahlia (Dahlia)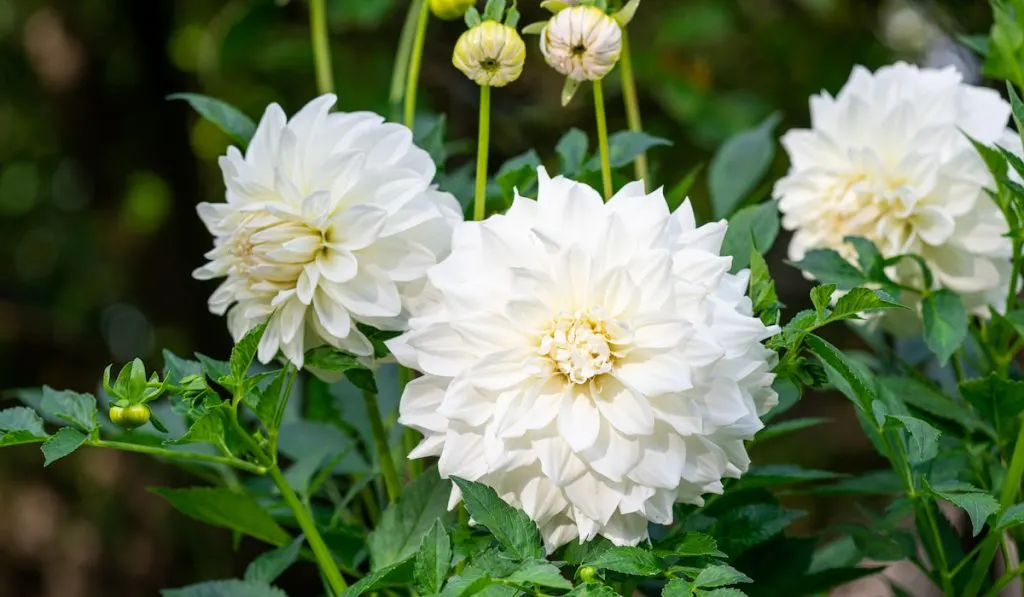 Dahlias belong to the Asteraceae family and they feature a beautiful, colorful flower that blossoms from mid-summer through fall.
Aside from having different colors, these flowers may also greatly vary in size—from 2 inches to 15 inches tall. On average, most dahlia plants can grow from 4 to 5 feet tall.
22. English Daisy (Bellis perennis)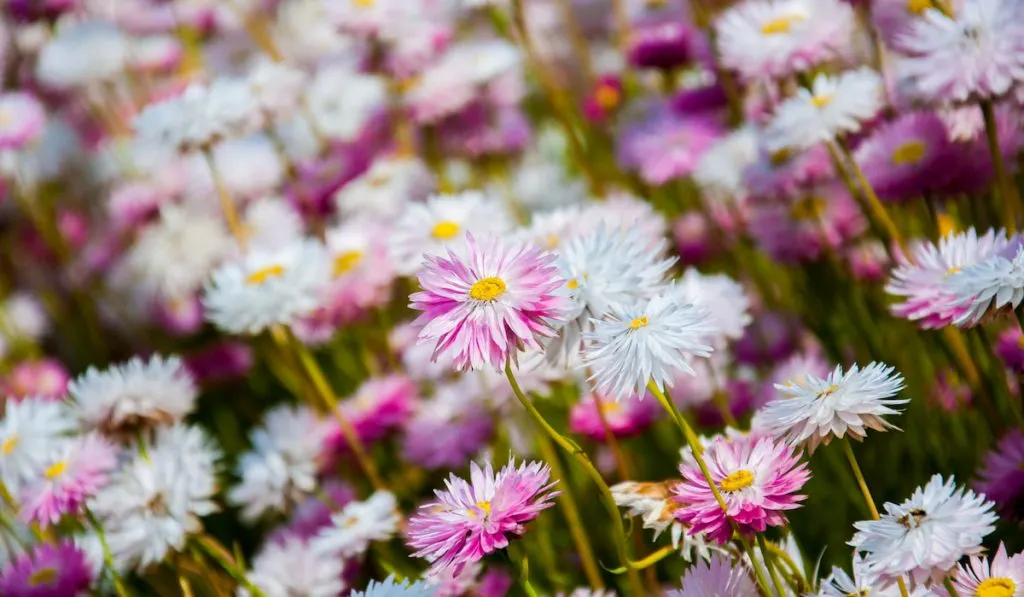 A flower so simple yet gives a vibrant and cheerful vibe, the English daisy compliments other flowers, which makes them an excellent addition to bouquets and arrangements.
English daisy is a fully-petaled, daisy flower that comes in different colors, including pink, yellow, and purple. However, they can spread easily, so you may need to share your homegrown daisies with a friend, or a neighbor.
Overall, the English daisy is a drought-tolerant, low-maintenance perennial that can provide your garden with years of classic and gorgeous blooms from summer through fall.
23. Delphinium (Delphinium)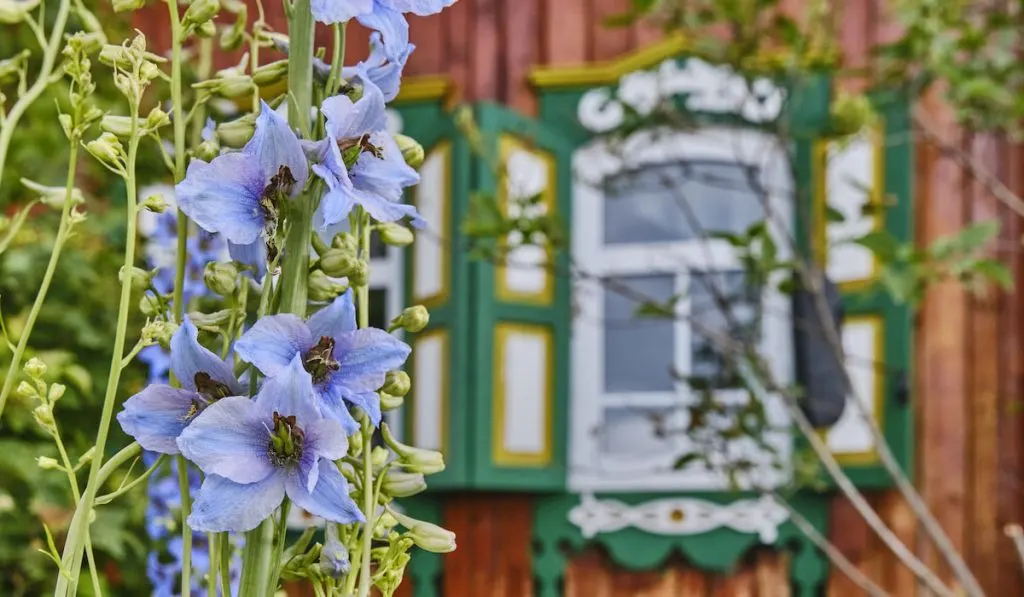 A preferred choice for most gardeners, delphinium is a perennial that exhibits showy spikes that come in various shades, including blue, white, purple, red, and pink.
Delphinium is usually planted in cottage-style gardens, as well as in cutting gardens.
However, growing delphinium can be quite a challenge. This is because they thrive in moist, cool summers, but not in a hot and dry climate. These flowers also do not prefer unexpected bursts of wind or rain.
24. Dianthus (Dianthus sp.)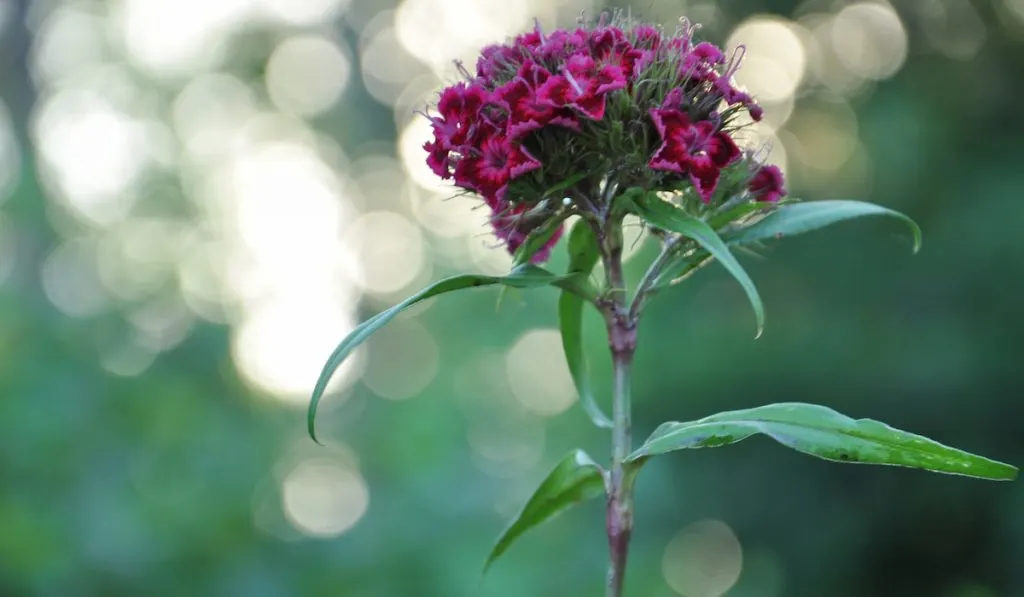 Also known as 'pinks,' dianthus is prized for its blue-green leaves and abundant blooms that offer a spicy scent.
Dianthus is a favorite among florists and gardeners due to its fragrance and long vase life. This plant is easy to grow and can be used for table decorations, bouquets, and flower arrangements.
25. Eucalyptus (Eucalyptus cinerea)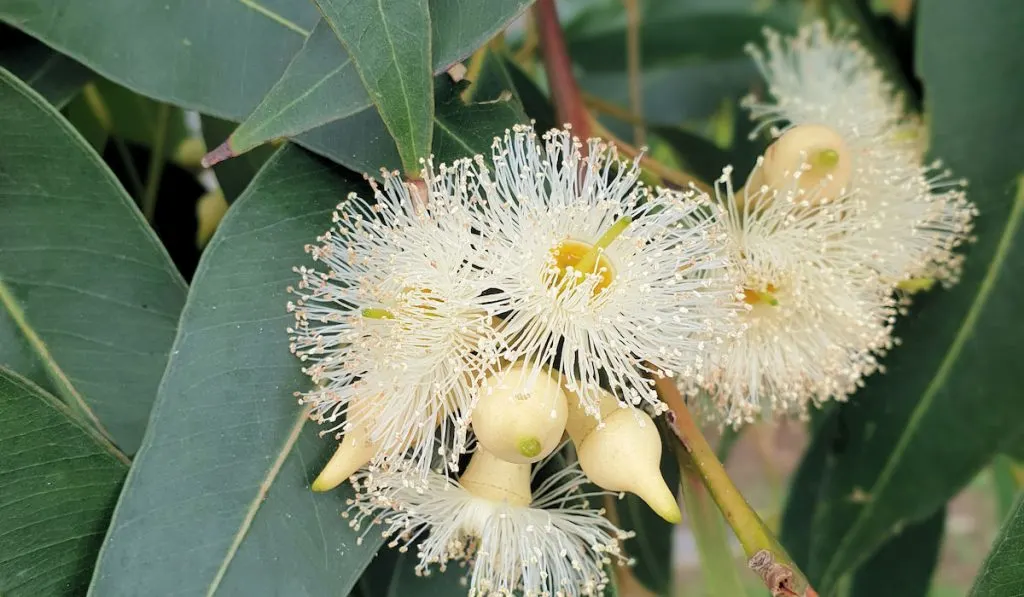 Eucalyptus is an evergreen tree that usually grows about 6 to 10 feet in a home garden. This plant displays reddish-brown bark and silvery-blue foliage that expels a menthol-like scent when bruised.
The eucalyptus' round-shaped leaves make it a great filler for vases, flower arrangements, and bouquets, either in formal and casual displays. Best planted in spring, take note that this plant grows quickly.
Usually the 'last man standing' in flower arrangements, eucalyptus can last more than 21 days in a vase.
26. Gladioli (Gladiolus)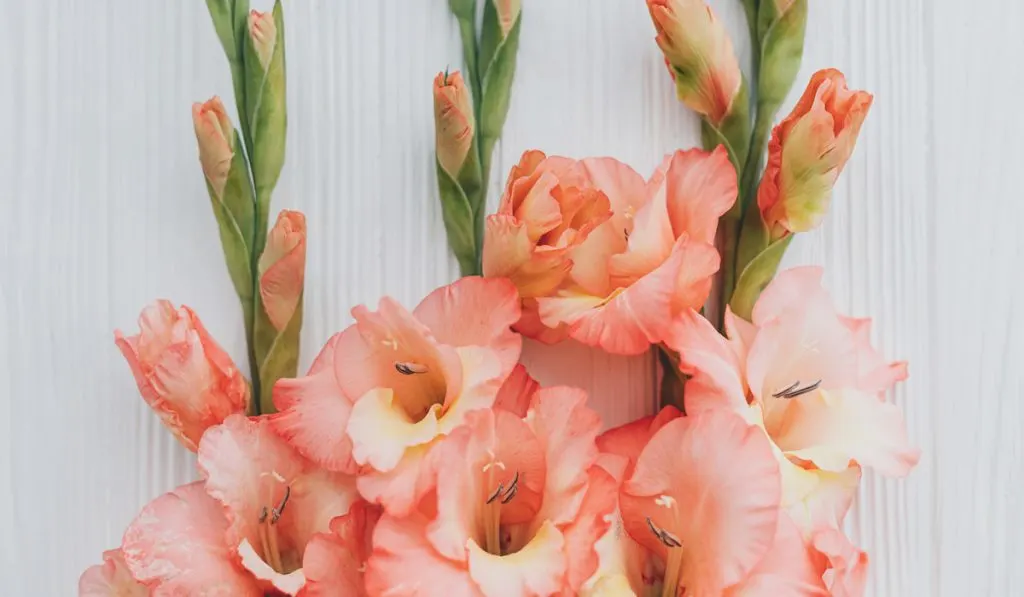 Gladioli provide flamboyant, tall blooms which are ideal for those who want to add height or drama to their flower displays. Their flowers vary in color, including red, pink, yellow, coral, green, and cream.
If used as a cut flower, the gladioli have a vase life of 7 to 10 days.
27. Gypsophila (Gypsophila)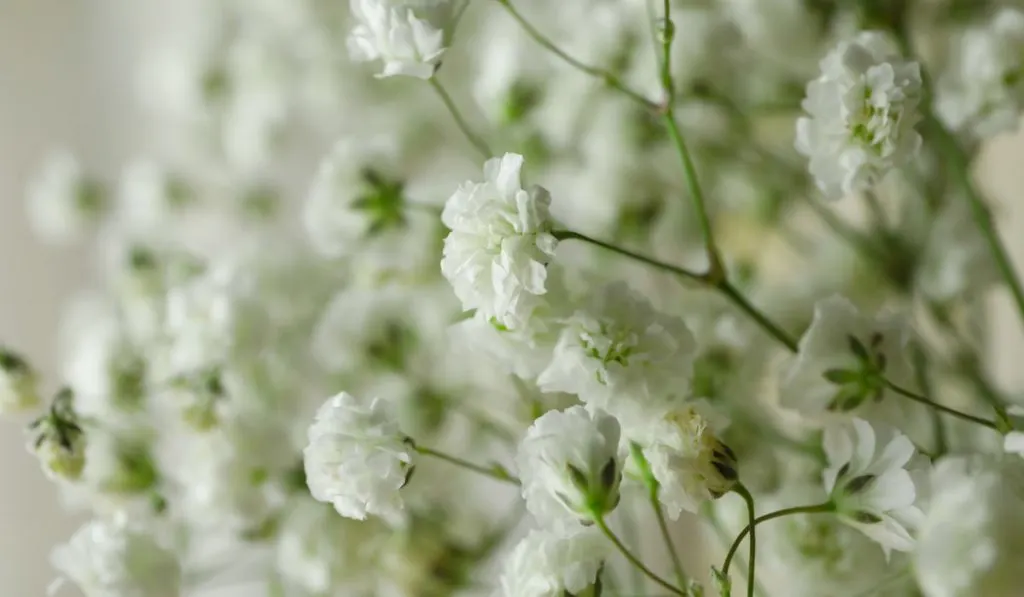 Gypsophila is a filler that makes every bouquet and flower display unique on its own. This airy plant can be grown along with other kinds of flowers.
There are also two types for gardeners to choose from: a gypsophila that grows upright, and a gypsophila that crawls, also known as the 'ribbed gypsophila.'
This flower has a vase life of up to 7 days.
28. Hydrangea (Hydrangea sp.)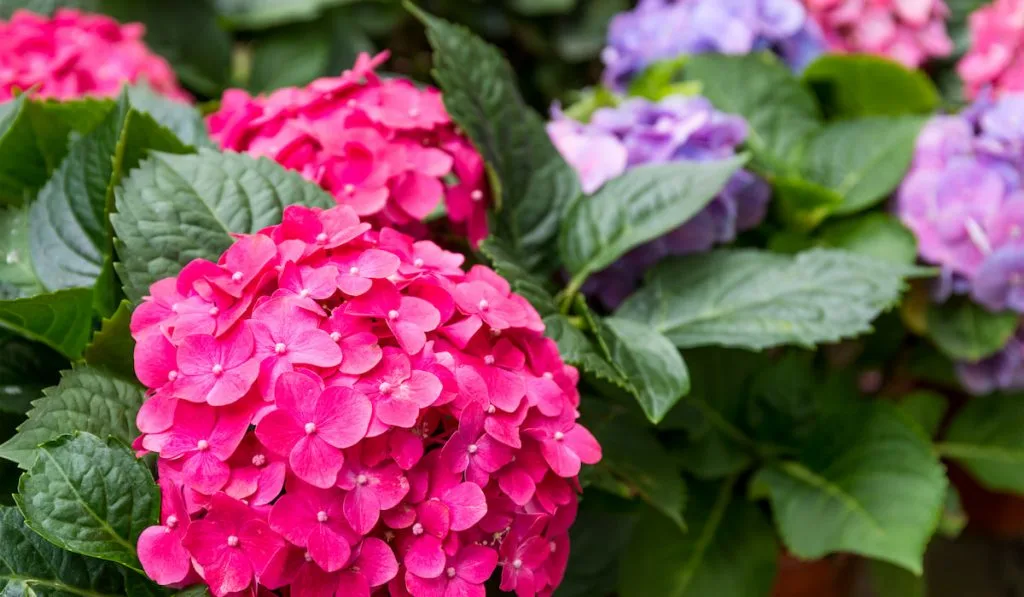 Hydrangeas offer elegant and old-fashioned beauty during summer. Although this flowering shrub does not last long, they are still very popular as cut flowers.
Hydrangea shrubs produce abundant blooms that come in a variety of colors, including blue, white, pink, lavender, and rose.
They are also easy to cultivate and can be planted in different garden sites, including group plantings, containers, and shrub borders.
29. Lace flower (Ammi majus)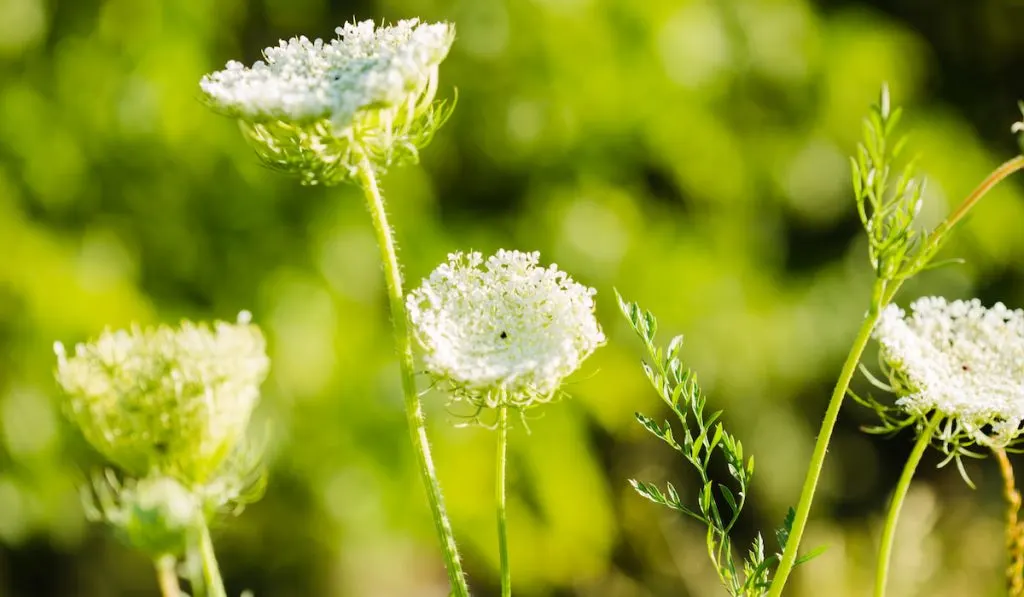 Lace flower produces feather-light, tiny white blooms and a fern-like foliage that gives a collected-from-the-field feel to any bouquets, garden beds, and flower displays.
This beautiful flower grows tall, is low-maintenance, and is also attractive to beneficial insects. Lace flowers can be used in both fresh and dried flower arrangements and have a vase life of about 10 days.
30. Lavender (Lavandula)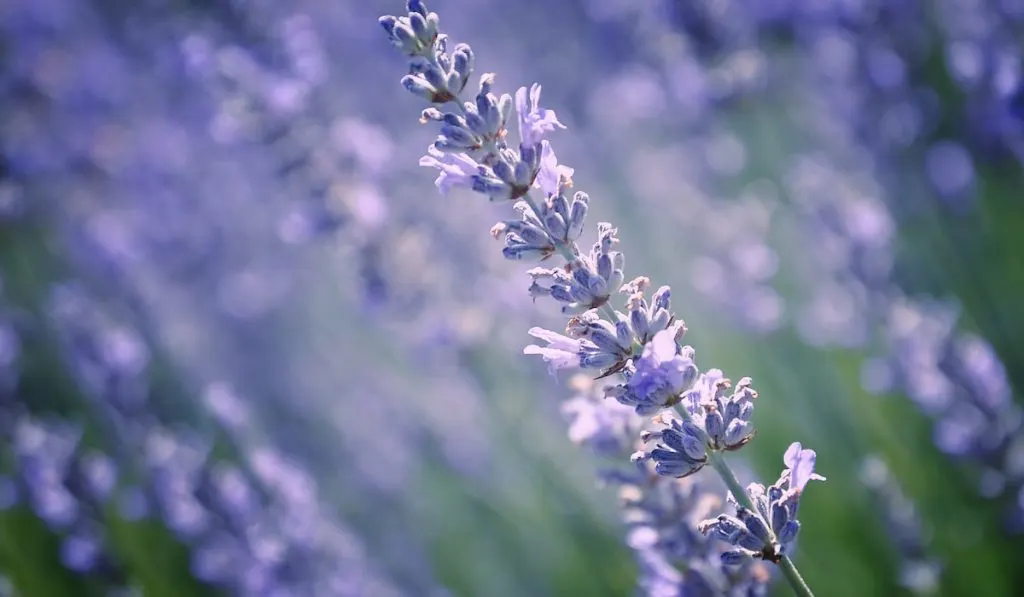 Lavender is an herb that can be used for various purposes, such as in culinary, crafts, and medicinal intentions. It is also a sweet-smelling herb that makes a beautiful addition to borders and perennial gardens.
Lavender has upright flower spikes and silvery-green foliage which can be used for sachets, bouquets, and floral displays.
31. Oriental Lily (Lilium orientalis)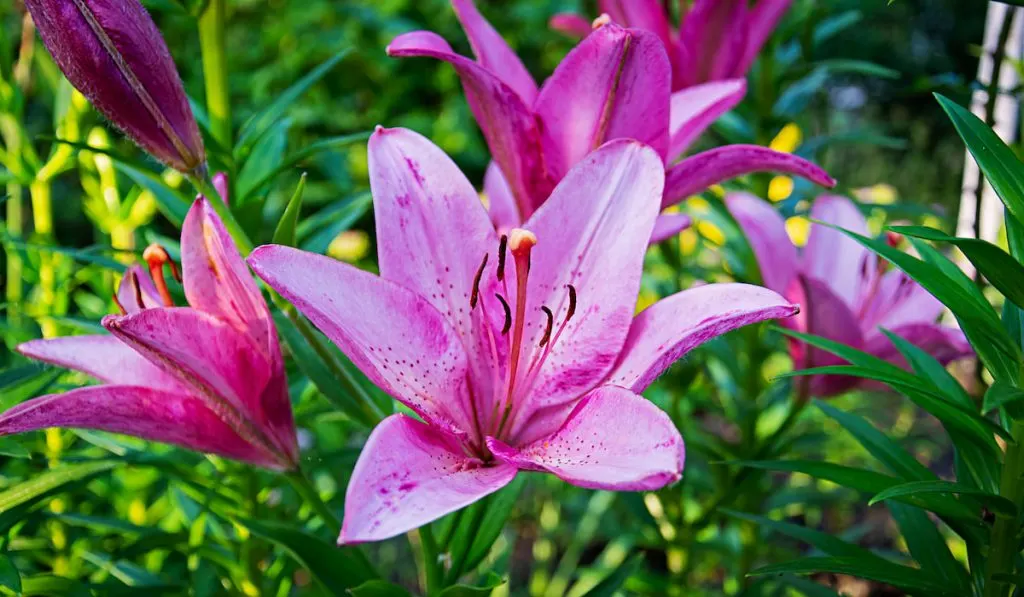 There are many varieties of lilies that can be used as a cut flowers, but oriental lilies are the best choice for their fragrant and trumpet-shaped blooms. It only takes few lilies to make a bouquet or an arrangement dramatic and unique.
On average, lilies have a vase life of 8 to 10 days.
32. Lisianthus (Eustoma)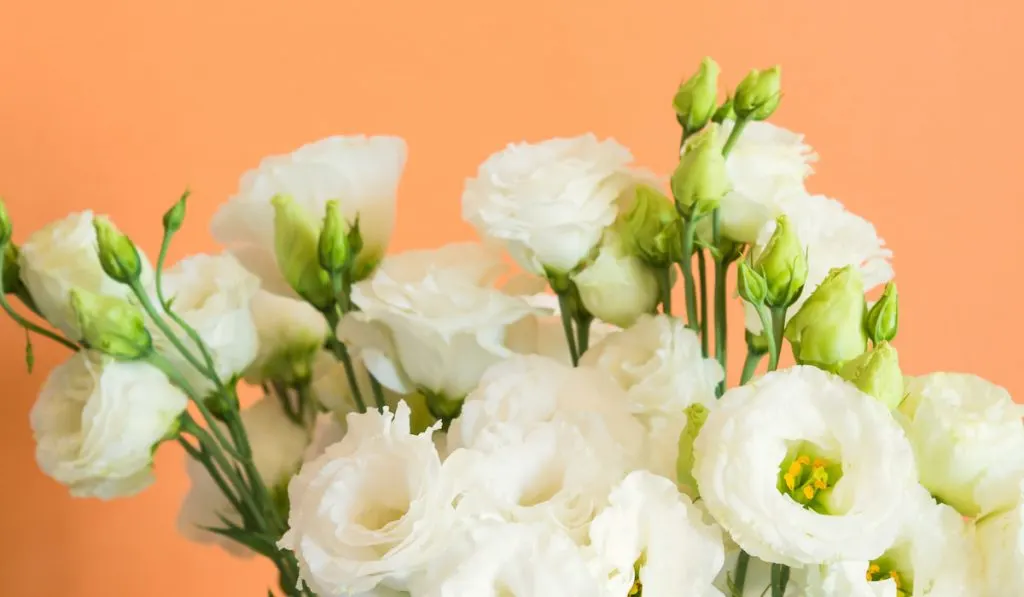 Lisianthus has rose-like blooms and is mostly used in bridal bouquets because of its elegant and sophisticated look.
Native to warm locations of the United States, lisianthus has a life span of up to two weeks in a vase, provided that they are properly taken care of.
This plant offers various colors of flowers, including white, peach, butter yellow, pink, and purple.
33. Love-in-a-mist (Nigella damascene)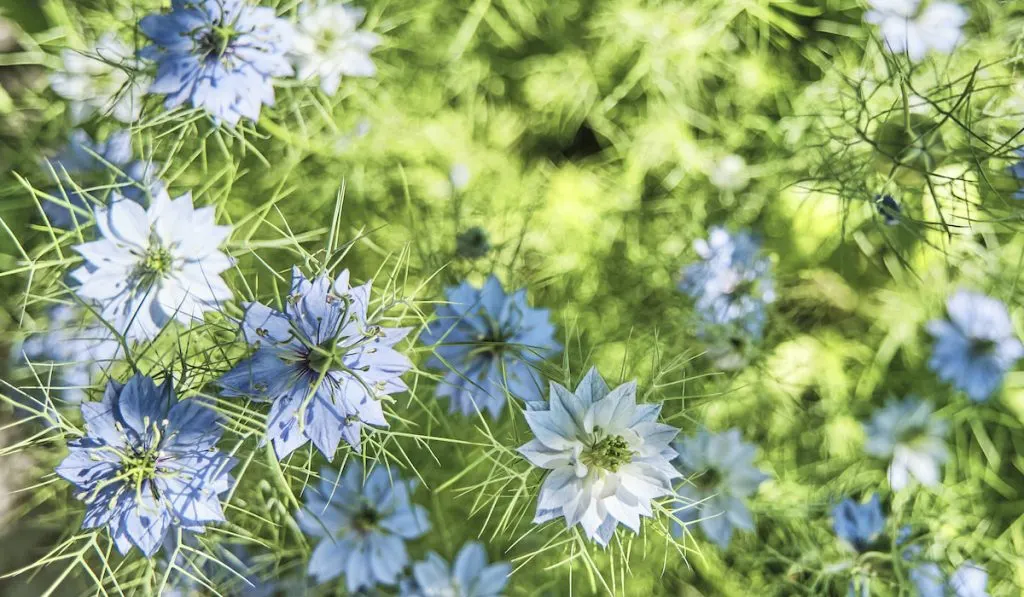 Also called 'nigella,' this flower has featherlight foliage that gives attractive blooms. After blooming, it has an odd-looking pod in green and dark maroon which builds interest for dried flower arrangements.
Nigella comes in various shades of white, pink, purple, aqua blue, burgundy, and dark violet-blue.
34. Mignonette (Reseda odorata)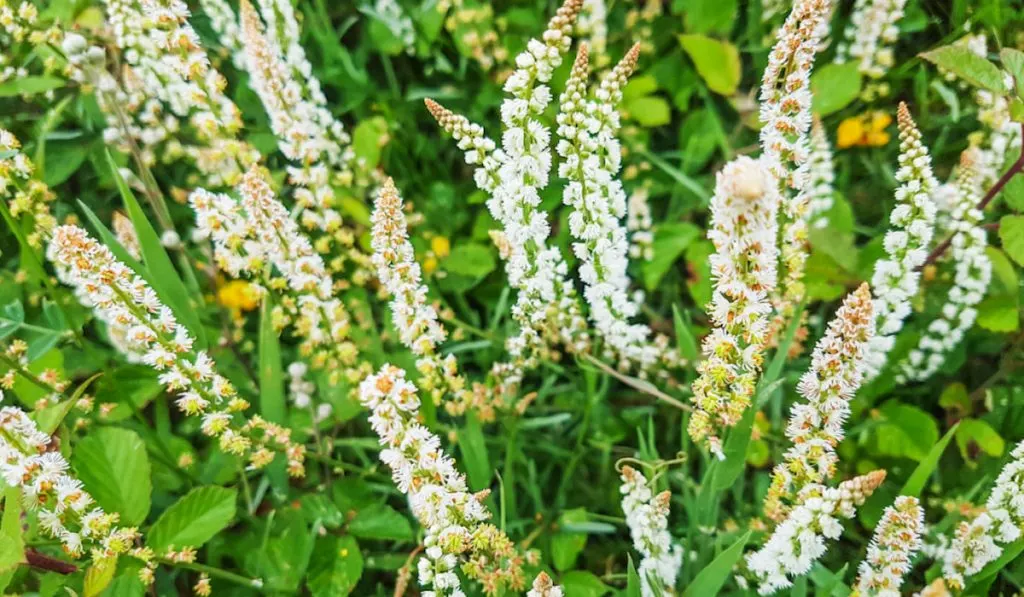 Mignonette adds an unusual, yet beautiful look to common and traditional flower arrangements.
This plant produces tiny, creamy-white blooms on 2 to 3 feet tall spikes. It gives off a spicy and sweet scent that lingers even when cut or dried.
Mignonette thrives in a cool climate and moist soil. It prefers full to partial shade.
35. Money Plant (Scindapsus aureus)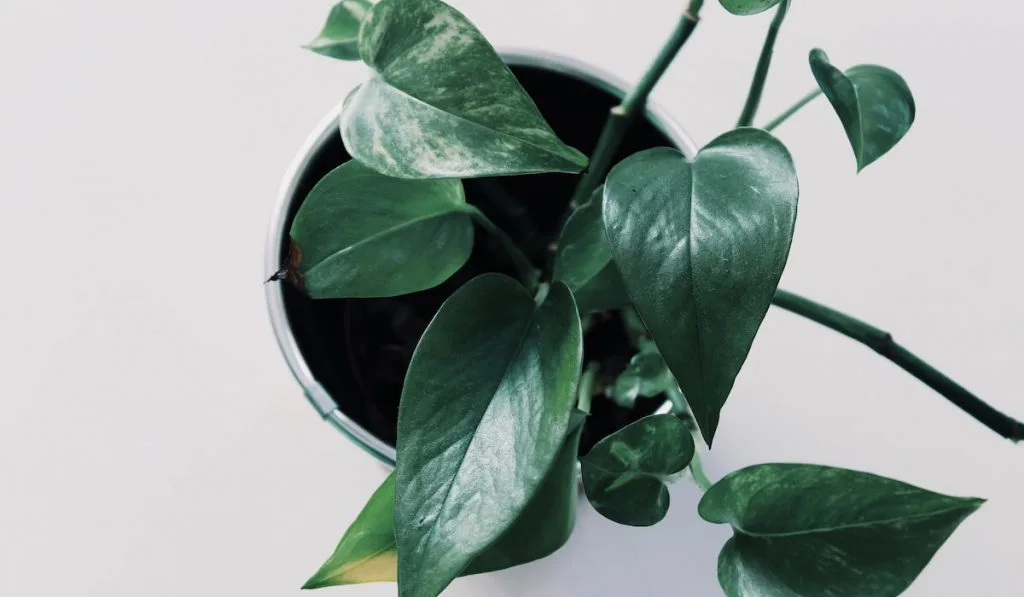 Known for their heart-shaped leaves that offer purple or white fragrant flowers in spring, the money plant is a great addition to dried flower arrangements.
This plant thrives in full sun to partial shade, as well as in moist ground. While this plant's flowers attract bees and butterflies, they are deer- and rabbit-resistant.
36. Orchid (Orchidaceae)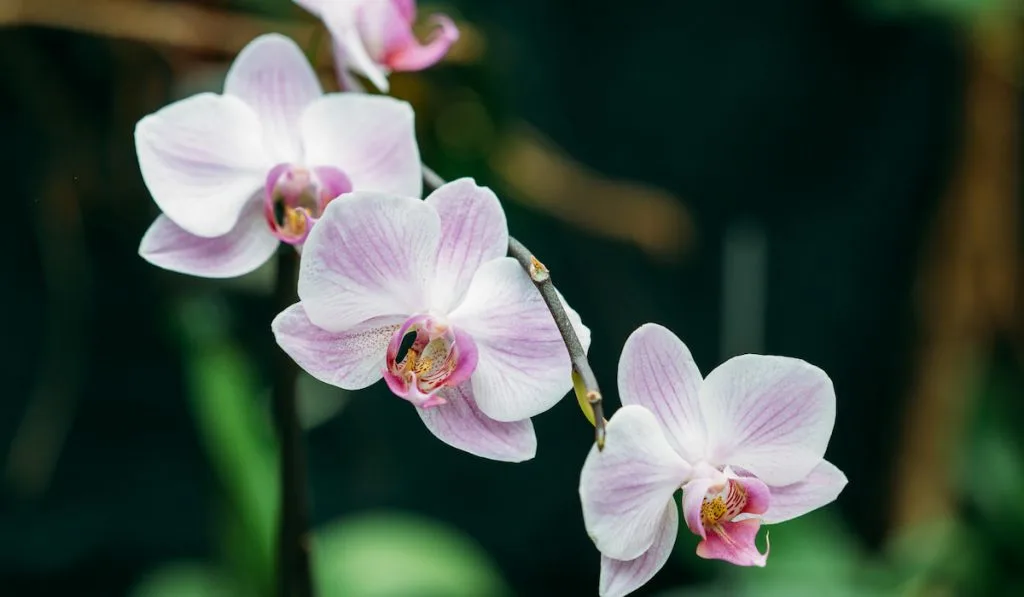 Having 30,000 various species, and at least 200,000 hybrids, orchids cover the largest plant family in the world.
The reason for their incredible complexity and diversity is their capability to adjust and adapt to their environment.
Depending on their species, some orchids are easy to grow, while others can be difficult to handle. The exotic flowers of orchids make them popular houseplants and bouquet flowers.
37. Peony (Paeonia suffruticosa)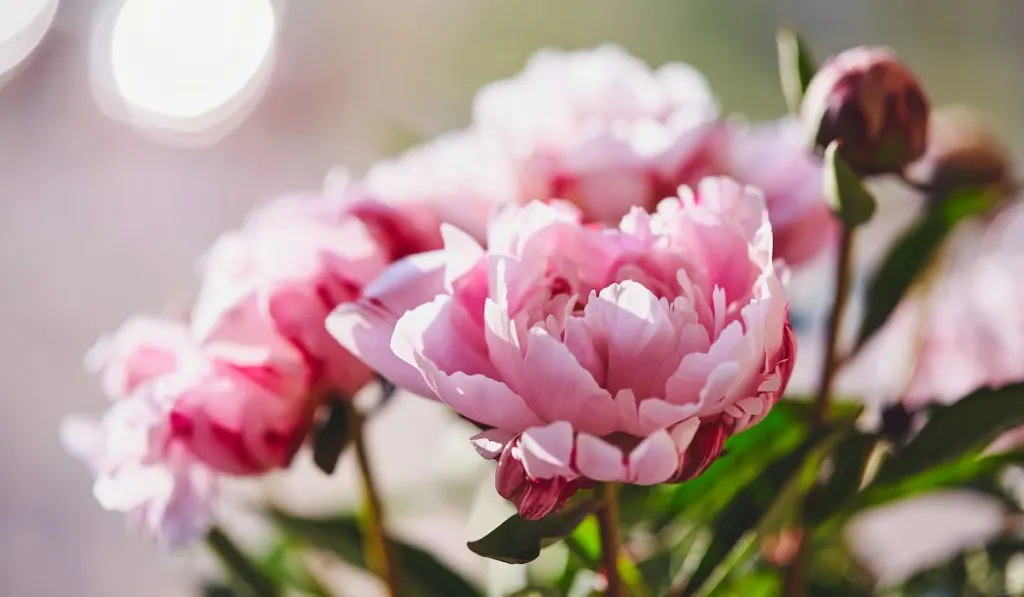 The rich, delicate peony gives a feminine feel to any floral displays and bouquets.
Known for their refined, large blooms, peonies can be single- or double-flowered. Herbaceous peonies are great for captivating arrangements, although they have a short flowering season.
38. Poppy (Papaver)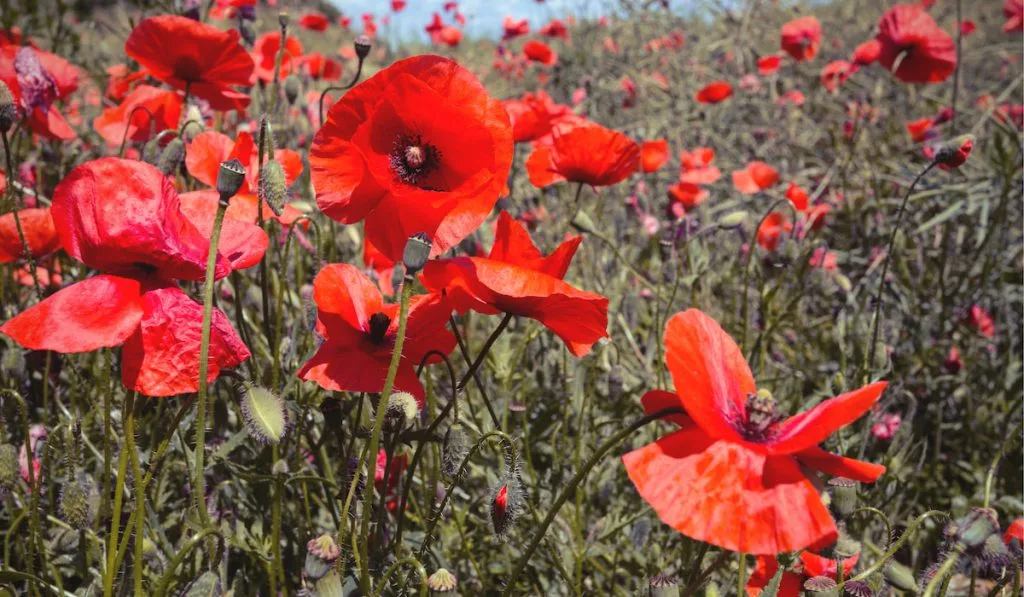 Poppies flaunt spectacular blooms, and many varieties of this plant are used as cut flowers, including bread seed poppies and Shirley poppies.
Poppies vary in a range of sizes, from small to large, and they can be white, cream, yellow, peach, orange, pink, red, and dark purple. Some have dark centers, while others can have yellow ones.
Poppies have a relatively short vase life span of about two days.
39. Ranunculus (Ranunculus)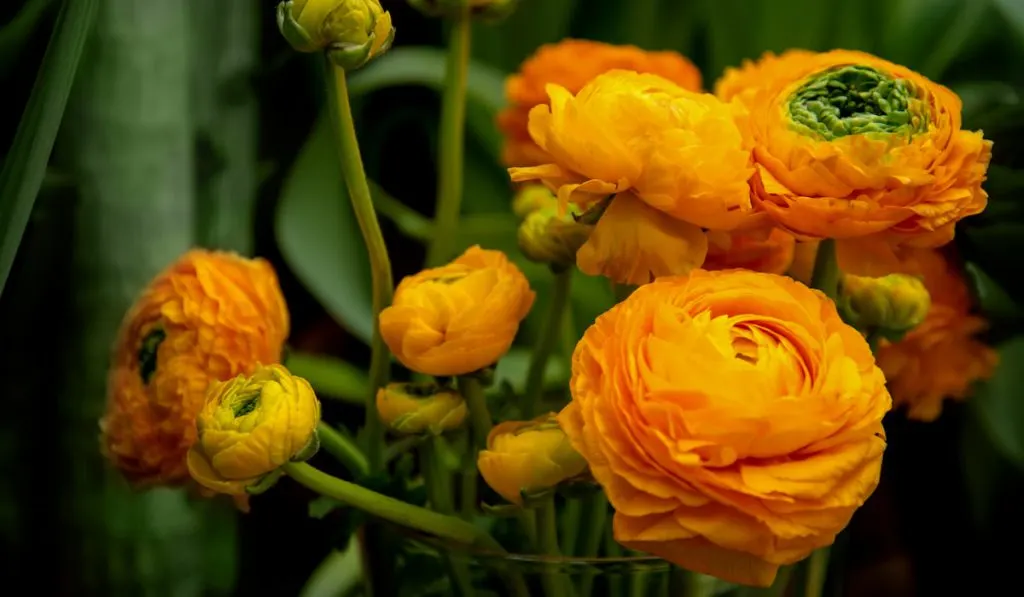 A popular choice among florists, high-end flower shops, and wedding bouquet planners, ranunculus offers rose-like blooms and tissue-thin petals that come in different colors, including cream, pale yellow, pink, red, orange, apricot, and burgundy.
Ranunculus corms may be planted in the fall and the flowers are harvested in spring.
40. Red Hot Poker (Kniphofia uvaria)
Also referred to as 'torch lily,' the red hot poker flaunts bright colors of yellow, green, orange, and red flowers. A perennial, this plant attracts hummingbirds. They easily withstand heat and thrive in well-drained soil.
All red hot poker varieties can make beautiful cut flowers due to their distinctive bright color and stylish accents.
41. Rose (Rosa sp.)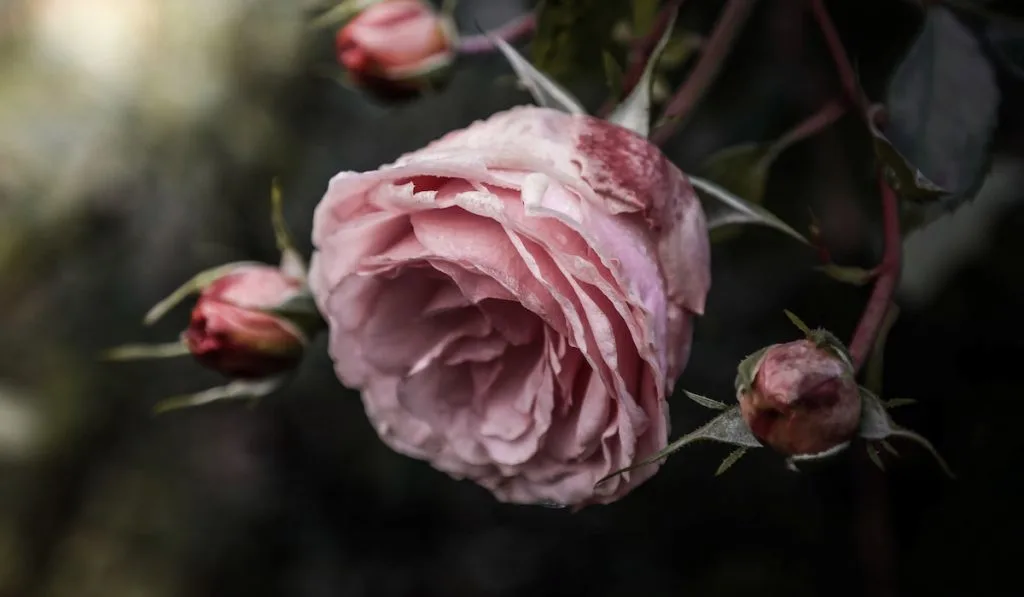 The most popular flower in the world, roses can take a bit more effort to grow, but they are surely worth it.
There are various rose species, but those with longer stems make the best choice for cut flowers.
42. Scabiosa (Scabiosa)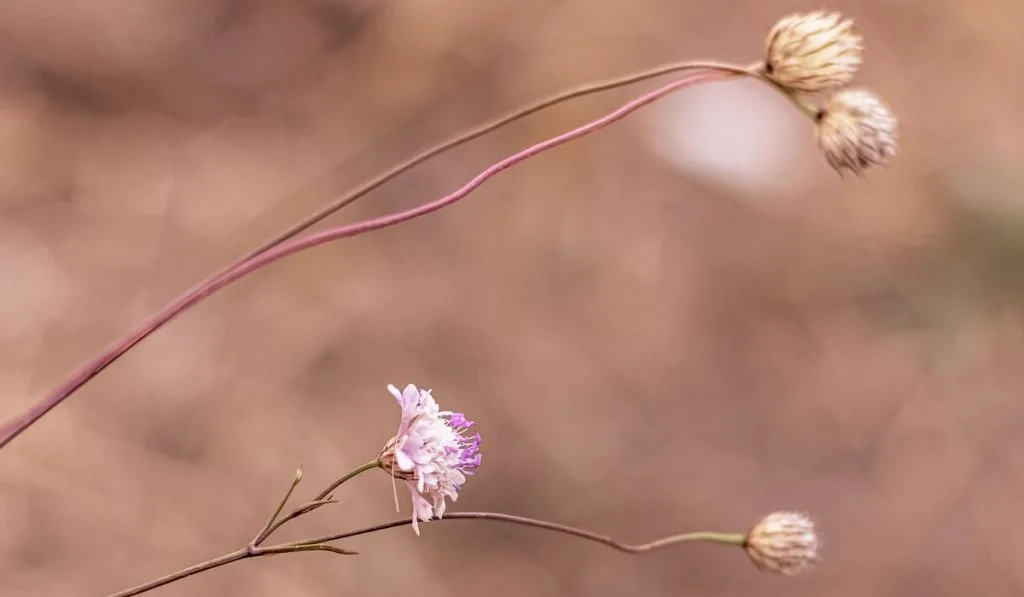 Also known as the 'pincushion flower,' scabiosa offers an elegant and fancy look to a garden. This plant has a long vase life, which makes it a great choice for bouquets and flower arrangements.
The scabiosa flower's color varies from pink, white, to pale blue-violet. A low-maintenance plant, scabiosa is attractive to pollinators, including bees and butterflies.
43. Snapdragon (Antirrhinum majus)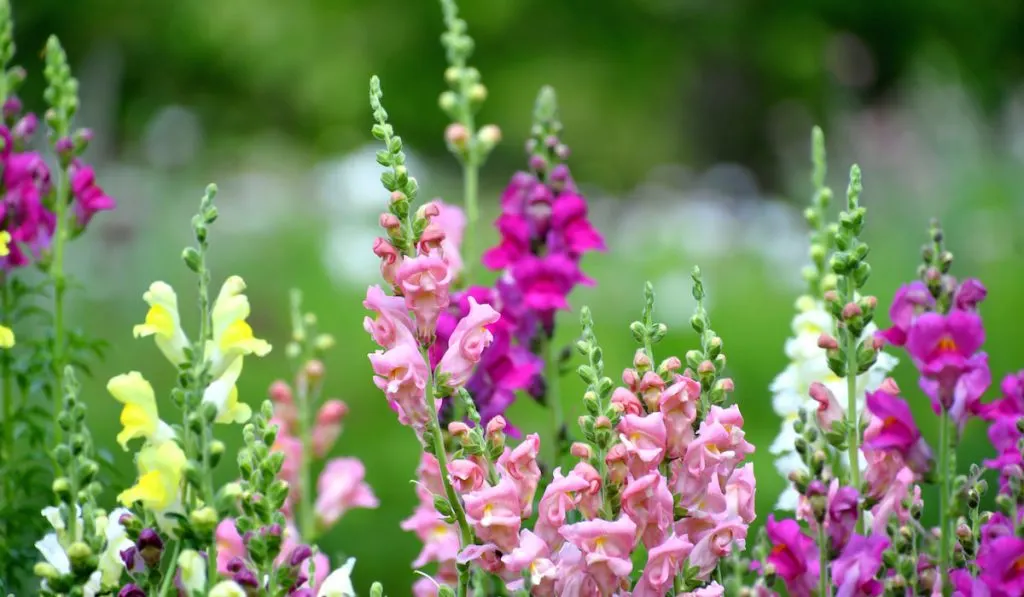 This plant's name is derived from its flower head that resembles the snout of a dragon.
Best planted in warmer climates, snapdragon is a well-known, short-lived plant that can be grown in a variety of garden sites, including mixed border gardens, containers, and flower boxes. They also make a beautiful addition to bouquets, vases, and flower arrangements.
44. Stock (Matthiola incana)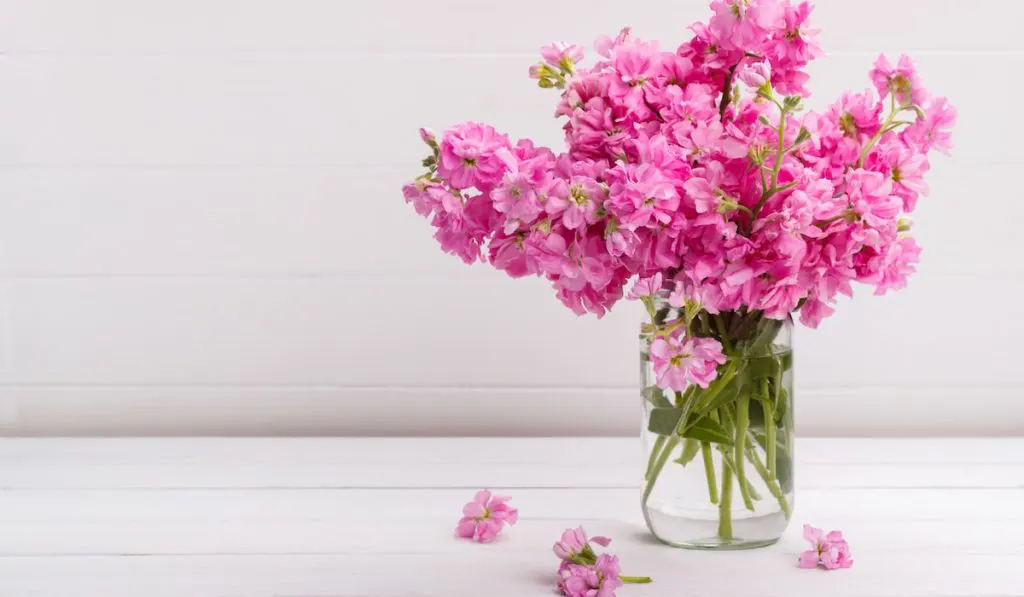 Commonly called 'gillyflower,' stock is an underappreciated yet wonderful flower that gives off a spicy scent. This flower comes in various colors, such as white, cream, pink, apricot, purple, and magenta.
Stock thrives in cool climates, and they are also attractive to pollinators.
45. Sunflower (Helianthus sp.)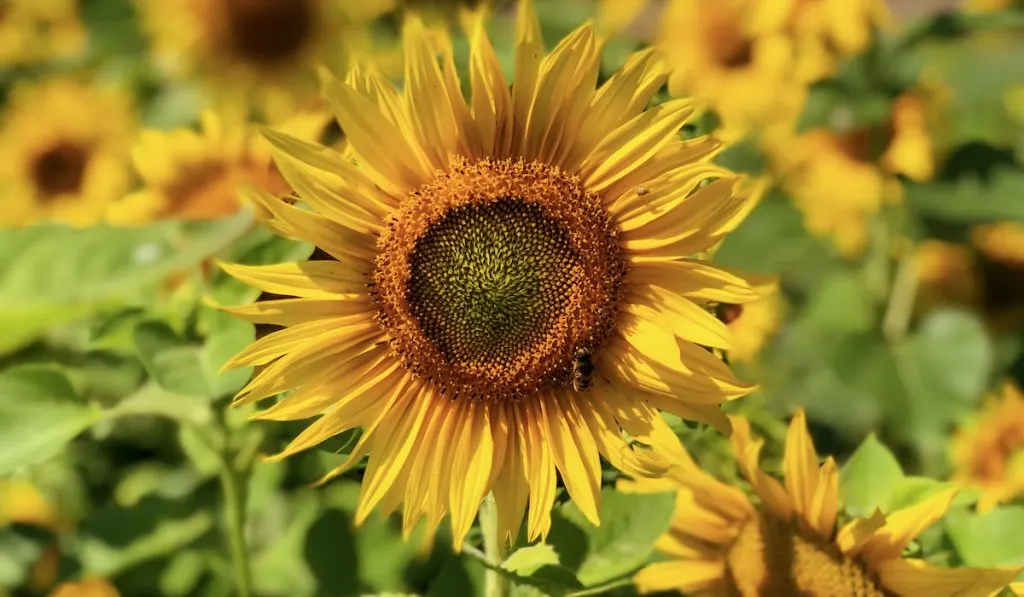 Sunflowers are usually grown for their seeds and oil, but many of them are also used for bouquets, vases, and displays. Sunflower can be displayed alone or in a group.
Sunflowers vary in size, from dwarf to tall. They also come in different colors, including yellow, red, orange, rust, and deep crimson brown.
46. Sweet Pea (Lathyrus odoratus)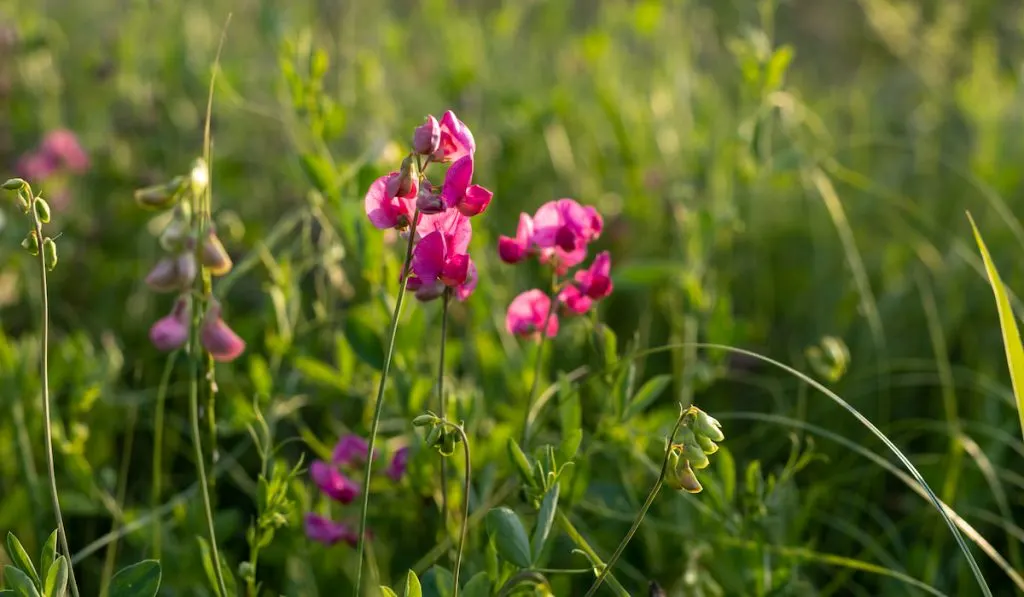 Sweet pea is a flower that comes with an alluring scent. It has hundreds of varieties and comes in various shades of pink, cream, salmon, orange, purple, blue, mauve, red, and white.
Adding sweet pea to an arrangement gives a traditional and classic feel. It is a long-lasting cut flower that gives off an excellent fragrance to any home.
47. Tulip (Tulipa sp.)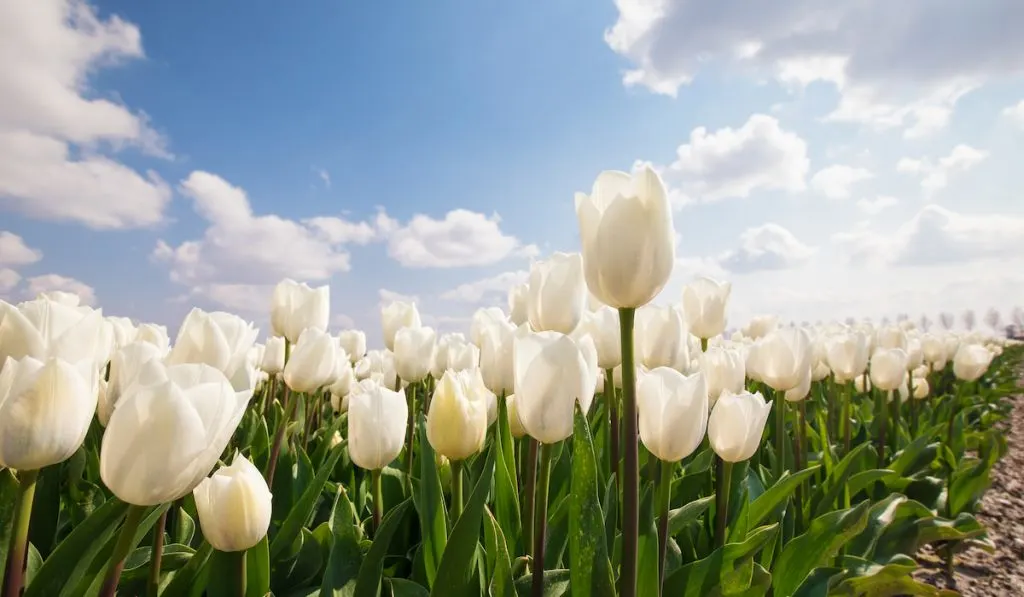 Tulips flaunt vibrant, beautiful colors that make them ideal for indoor flower arrangements.
Tulips are thirsty when cut, which means that they need to be provided with water on a regular basis to last any amount of time.
48. Veronica (Veronica)
Veronica is a tall, showy flower with spikes that come in different colors, including rose pink, purple, and white. This flower is low-maintenance, long-lasting, and gives dimensionality to any floral arrangement.
Veronica attracts pollinators, including bees, butterflies, and hummingbirds.
49. Yarrow (Achillea filipendulina)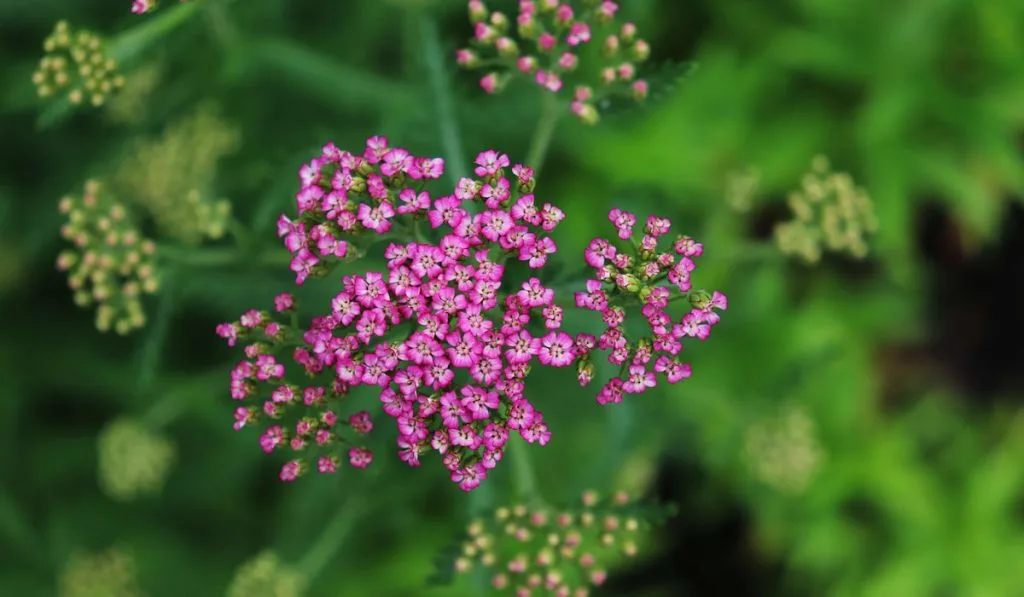 Yarrow is a perennial that offers flat, golden-yellow flower heads that emerge from summer to fall.
Also used for medicinal and agricultural purposes, yarrow also makes a great cut flower. It comes in a wide variety of colors, including bright yellow, white, pink, peach, cream, orange, red, and purple.
50. Zinnia (Zinnia)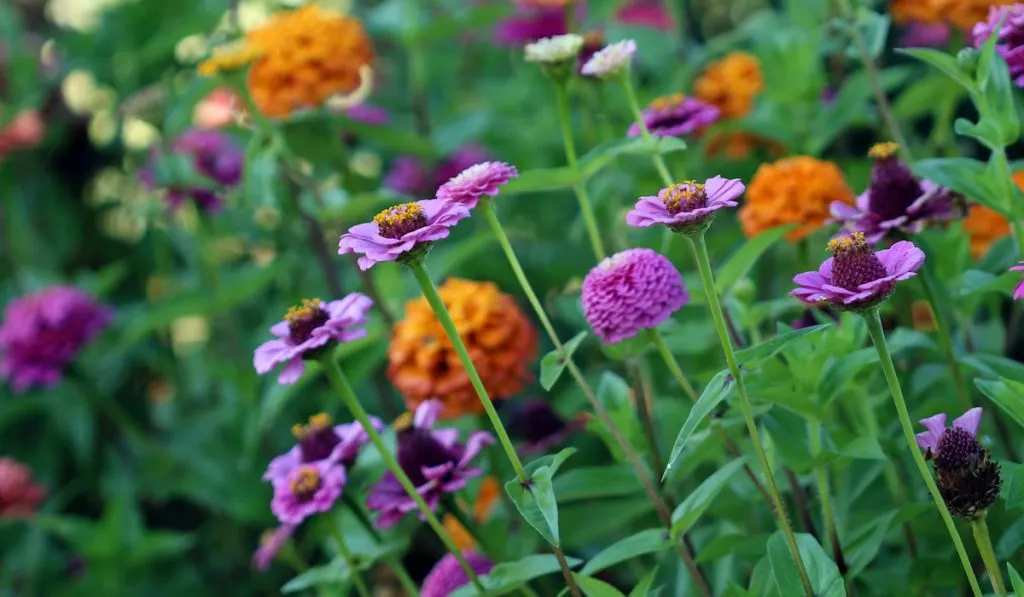 Zinnia displays huge, abundant blooms in various shades of white, yellow, cream, orange, pink, red, purple, and bright lime green. They can also be multi-colored and variegated.
This plant is easy to grow, drought-tolerant, and deer-resistant. Zinnias don't fade quickly, and they bloom continuously from summer through fall.
While there are various cut flowers to choose from, taking into consideration their preferred climate, soil preference, and water requirements are important to maximizing their vase life.
Resources: